© Lost in Wonderland
Feather-like, delicate lingerie belongs to the most fetching pieces of cloth a woman can wear. Especially for the art of burlesque, these textile secrets are not simplay kept behind the closed doors of your bedroom, but are put right in the center of attention on small or big stages. For burlesque fashion, lingerie is a rather important topic – some of the most wonderful creators of this fashion have already been presented here, take Kiss me Quick Lingerie or the exclusive pieces of art by Mise en Cage Lingerie. However, Berlin too, has some fashion makers who can create something extraordinary out of the fine fabric, something that appears enchanting – and much too glamorous to keep it behind closed doors 🙂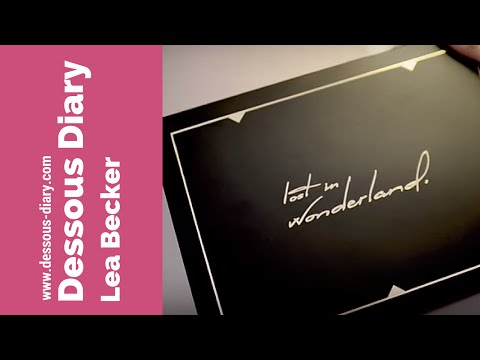 Scarlett Großelanghorst founded the Label Lost in Wonderland in 2012 to fill in a gap that emerged from the fact that beautiful dessous made of cheap material get all locked up in your drawer because they're becoming scratchy and simply uncomfortable to wear, while the most comfortable briefs and panties are everything but sexy. In her cheerful dessous collection the focus is put on the wearing comfort. Besides, the wearer should not feel disguised but all natural, and still – the lingerie is there to decorate and to accent the female curves. The fact that Los in Wonderland does not involve any animal products is yet another unique feature that completes the brand concept.
© Lost in Wonderland Lingerie
Lost in Wonderland offers high-quality eye candy with exceptionally high wearing comfort and a lot of sex appeal. To me, this fine couture is still ready-for-stage, which is probably due to the fact that almost every lingerie set comes along with a garter belt. Now, those of you who are ready-to-shop can meet their desire online – maybe you find a special friend a special gift 😉 Or you can make a personal appointment with Scarlett in her Atelier in Friedrichshain, Berlin and, if you really beg and plea, Scarlett might even create you a custom-made corset 🙂 There are many new collections that you must check out here at their website to know what will suit you the best.
© Lost in Wonderland Lingerie