An Interview with the gorgous Tempest Storm
Burlesque-Fashion Magazine: In the world of Burlesque, there are two names that are spoken with the utmost awe by even the big names of the retro movement: Betty Page and, of course, Tempest Storm. How does it feel to be a living legend?

Tempest Storm: I don't feel like I'm a legend. It's too soon for that and I have a long time to go! I'm not hanging up my g-string, yet…

After all the well-known names during your active time – JFK, Sammy Davis Jr, Dean Martin, Jerry Lewis, and Russ Meyer as well. Are there any personalities that have impressed you as much in recent years?

No. There are no towering personalities like the ones you mention. However, there is one very special person, Harvey, that I have in my life now. I used to say Elvis was the King. Now I have a new king!

Is there an anecdote or story from your time with Betty Page that hasn't been told, yet? And would you, possibly, share it with the readers of my Burlesque column? 😉

Just about everything has been told about Bettie. When we met on the set for the movie we made together in 1955, we got along great. She was very sexy in kind of a pixy way. I tried for many years to contact her again, but to no avail. What I have left today is the clothing line named after her. I'll be taking the wardrobe with me to Boston in a few days! I am excited to have been invited to host the Burlesque Show in Portland, Maine and another in Beverly, Massachusetts.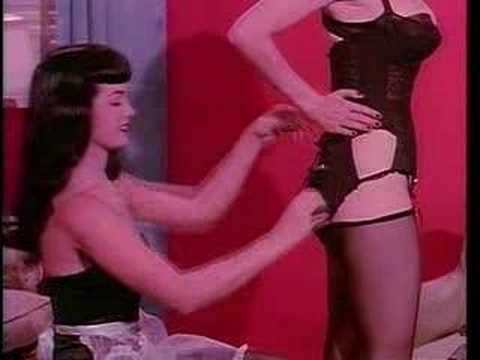 Have there been and are there designers whose fashion creations you appreciate especially? Both on stage as well as in your daily life?

Yves St. Laurent, Oscar de la Renta and of course, Bettie Page.

In the past years, Burlesque has developed back into an art form again, gaining new glamor through personalities such as Dita von Teese and Bernie Dexter. What does the term "Burlesque" mean for you personally?

Classic burlesque leaves something to the imagination. A lady has to have beautiful costumes, excellent music and have a great personality on the stage that can connect with your audience. And that I know I have. When I hit that stage, something comes over my face that transforms the theater. It comes from the inside and creates a bond with your audience. Beauty and movement are not enough. There must be that something else.

Today, Burlesque can be found on every street corner. The media has turned its attention to it and more and more artists are drawn to the stage to dress up artistically. Did this trend exist during your times as well? Where courses being taught on it or was this art form more of a subculture?

At that time, we had comedians, who were the stars of the show. The exotic dancers began as an add on, so to speak. I started in the chorus line and then became a headliner. It was big at the time and it's fun to see a revival.

In the summer, the BURLESQUE HALL OF FAME Museum opened in Las Vegas, which is on the top of my list of places to visit. To what degree where you involved in the founding and realization of the museum?

I had nothing to do with it, other than the being the headliner who helped cut the ribbon with Mayor Goodman. However, once inside you will find a lot of pictures of me and my performances.

The film "BURLESQUE" with Christina Aguilera will hit cinemas in November. It has been controversially and hotly discussed online. What do you think of the movie and how much of it portrays autobiographical moments from your own life?

I have not seen the movie, but different people whom I respect have come to me and told me it is about my life. Although I will wait to see the movie, I understand it is about a poor girl from the South who tries to get to California to hit the big time. Three years ago, Christina Aguilera stated publicly that the movie was about the life of Tempest Storm. Let's wait and see.