Browsing articles tagged with " latex dress"

© Vix Tuff Pix
Who doesn't love them? They save the world, they fight the evil and most of the time, they look incredibly awesome doing so. In skin-tight catsuits or bodysuits they almost kill the villains with style. I hope you already know that I am talking about our female superheros
. Shhh! Couture Handmade Latex by Shoshanna Ani from England would like to meet the desire within us and transform us into exactly the bombshells from the DC comics, the Marvel movies and science fiction blockbusters. The calling to her destiny as a super heroine designer was heard during her fashion studies and a long period of working as the main designer of a considerable latex design atelier.

© Belinda Bartzner

© Terry King
No matter if you would like become a sexy storm trooper catching a jedi in Star Wars or if you would like to become Wonder Woman, catching the man of your life with a golden lasso, Shhh Couture has the answer. The possibilities of becoming a heroine are endless and the online shop shows enough great inspirations. To me, great ideas are the ones of a Boba Fett inspired dress, a Princess Leia latex two-piece outfit or a tetris dress
… haha… wonderful just how creative you can be with this skin-tight material.
Her handmade latex creations let no wishes unfulfilled and, of course, can put every figure into the right light, even apart from the comic world. The variety of her creations include small accessories, bathing suits and whole outfits for creating a great cosplay and fantasy characters. The love for latex details is true and puts a smile on every female world saver's red-coloured lips. In her atelier close to Exeter, England high precision work is done to custom-fit the dresses to the customer's bodies and to communicate via the new media for the next international orders. Those of you who would like to find out more about Shhh! Couture Handmade Latex should finally make use of their super powers and check out the website or get the old dusty cape out of the closet and fly to the atelier. And, for the superfast of you, there is the ETSY Shop.
Titelbild © Kitty Kems
Recently, jumpsuits and catsuits have become my new and highly appreciated fashion avdenture. Of course, this made me come across Crazy Latex from Germany. read more
If you go searching the internet for awesome latex couture, you sooner or later will find the latex label "Eustratia", located in Manchaster and founded by Stacey Black. Her wish to create her own fashion label arose from her special taste for extraordinary costumes, unconventional clothes and latex. For Eustratia, the individual expression of the wearer is in the focus. Her style puts together the beauty of the past and the vision of the future. And this is, in my opinion, what comes clear at first glance. A tiny bit, her couture reminds me of the film classic "5th Element" – and still, the feminine shape of retro fashion shows trough.
Collection Stellar
Collection Chimera
Collection Spring / Summer 2014
Colors play a major role in the clothing lines of Eustration and in addition to the typical basics like tops, skirts and dresses Eustratia designs accessories like harnesses, gloves and belts and – of course – everything is handmade. From shiny colorful tones over to soft pastel shades and harsh black and white contrasts, Stacey plays with the color variety and the latex material like probably no one else does. The skin-tight material loses its scandalous touch and screams to get a place on the progressive fashion runways of this world.
Those of you who would like to find out more about Eustratia Latex can use the various ways of the digital worlds to get further information on Stacey Black. Next to the wonderful website of Eustratia, which also has several sale offers once in a while, her pages on the common social networks as well as her fabulous fashion blog are worth a visit
Teaserpicture by Ian McManus Photography

Jade Vixen, Photo © Jerry Bennett
It gets harder and harder to find really good, outstanding alternative fashion. The internet is full of cheap corset shops and black latex fetish. Many oft he great ones I already showed to you in this column. This makes it even better that after a long time of searching I found another wonderful label from Holland. Brigitte More gives a magical and versatile second skin to every body and has a talent for taking a look beyond her own nose by using more than just rubber. Her fascination is based on the amazing metallically shimmering surface, using bright colours and decoration of feathers and studs.

Ophelia Overdose, photo © Stefan Gesell
Brigitte More's Lovey Latex Couture is rather a passion than only a fetish. Brigitte More has received several prizes for her creativity in making extraordinary couture and is right when saying that her pieces are exceptional. Catsuits, dresses, corsets and further pieces are amazingly feminine and made for the most sophisticated of tastes. Her aim is nothing less than the perfection of every detail of the fit and the comfort of each and every piece.
Those of you who would like to see more oft he charming pieces of the Holland-located designer should take a closer look at her website or Facebook page. Maybe, if you're a little lucky you might also find her at one oft he upcoming European fetish events, even though I personally think she actually deserves access to the runways of the big fashion shows.

Onna Sakura,Photo © Philipp Ganzer

Pictures  © La Cucaracha / Thomas Burggraf
Latex rubber is commonly known as a sleek and shiny surface for your body. Skin-tight, the natural material wraps around your body just like a second skin. But: Latex can also be opulent and loud. Screaming and aggressive, while still classy and full of innoation. La Cucaracha Rubber Fashion Design from Germany shows that frills and pipings do not always have to be cheesy and old-school and that white is a colour perfect not only for clinic games. Quite contrary: With their new collection "Hellenistic Eden" the colours of white and gold are put into a new light. Kinky but elegant, and, for sure extraordinary, the beautiful clothes show that the concepts of pride, lust, wrath and envy are not at all negative. Wonderful retro-aspects mix up with enchanting detail-loving contemporary influences. A divine dream!

© La Cucaracha
At La Cucaracha, wearing comfort is what the focus is put on. If possible, the designer of the label tries to rely on the stretching oft he label instead of on adding fasteners of different materials. But even former collections like "Fade into another Life" and "One of a kind" featured great cutting patterns and great entertainment. Unique creations, show pieces and costumes come from one single creative hand. La Cucaracha stands for uniqueness and specialty and I can just recommend a visit of their La Cucaracha Webseite – all of your senses will be triggered, since the charming images will not only adress your eye. 
And since alternative fashion does not know any gender-related limitations, the La Cucaracha has an exciting Boylesque collection comming up. Guys who don't dare to turn their back on their butch side are perfectly right with this.

© Fraeulein Ehrhardts High Gloss Dolls
Fräulein Ehrhardt's Latex world is playful, futuristic, colorful and supersexy. In her shiny and skin-tight latex outfits, the High Gloss Dolls look like seductive creatures from another world. From the smooth black catsuit and mega short mini skirts to silk-like stockings and brightly colorful bodies – these supernatural sirenes let the heart of all latex fashion fans beat a little faster. Here, Katja Ehrhardt has a special eye for the details with still letting her creations look effortless. Variety is never lacking and still, her designs look all classy and subtile. You can easily accuse Fräulein Ehrhardt for having a special taste for a straigth-line handwriting, which is quite unusual but appealing in times of fashion overloads. With the new possibilities in latex manufacturing, far away from the fetish-like black-and-red monotony, the glued designs are just fun and have the high quality of German and international Haute Couture. Here, it shows that Fräulein Ehrhardt has gained experience in latex manufacturing since 2006. The website, by the way, can be found HERE and for the amazing online shop, you can click this link.

Working in Hamburg, the designer has already made it to the covers of lad magazines and fashion magazines and, last but not least, Goliath Publishing dedicated a 120-page long homage to her. Next to her fashion, I would highly recommend this book to you and tell at the same time tell you, that one of those masterpieces will be given away right here for free (of course, brand new
). Fräulein Ehrhardt's High Fashion Dolls can be won in this column. Another time I try to share my love for alternative / extroverted fashion with my readers and I am looking forward to your creative comments under this entry. All commentors have the chance to win one of the Goliath published books, containing more than 200 pictures. All you have to do is write the reason why you love latex fashion (P.S. heavily fetish-focussed comments will not be activated – the focus should be on fashion). Closing date for this small competition will be September 15th 2013. The lucky winner will be informed via email and will receive the book with free shipping. Good Luck!
Right at the moment I am totally into big gowns. The fact that rubber can actually be the perfect fabric for hitting the world's red carpets is not only proven by famous artists like Lady Gaga. The amazing London designer William Wilde loves details, lives for unusual fabric combinations and creates extraordinary, skin-tight glamour gowns of a very special kind. Handmade masterpieces for a great appearance, perfectly fitted on the body and produced with much love. After having studied at University of Westminster and having gained experience with bride's wear, William conquered international stages and fashionistas' hearts as a costume designer. Here, his mix of materials is simply unique and wild. Sequins meet stretching clothes as well as lace and silk. William Wild is confident with the art of fabric mixing like no one else. For me as a detail fetishist all four collections are simply gorgeous. Quality and variety are more important than ever in times of cheap online shopping facilities.
While the collection "Through with Love" shows retro-inspired lace-negligés and printed slik evening dresses showed an irresistible touch of luxury, the new collection "Filthy Wilde" convinces fashion fans with Egyptian inspired exotic, excess and dramatic deco decadence, made of silk, shiny rhinestones, feathers and, of course, the beloved rubber. William Wilde wants it all. The little black dress is perfectly put into light just as the incredibly wonderful gowns in shiny sequins are. William's customers, among others, are Rihanna, Tori Amos, Paloma Faith and Kelly Brook… But you can also feel the taste of his collections on your skin. Take a look at his website and follow his Blog to keep an eye on his work and find the perfect outfit for video productions, red carpets, events or just a perfect night out. Personally, I found a new MUST HAVE fashion label…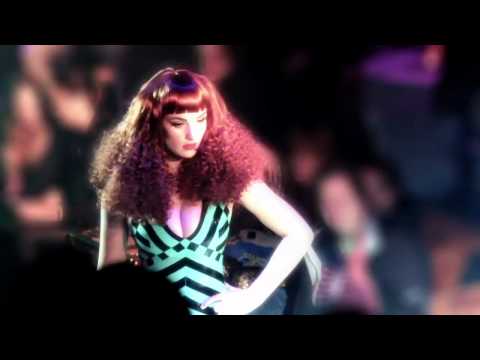 It doesn't always have to be overseas, sometimes true boombastic masterpieces are just around the corner. Well, my next visit in Hamburg will definitely take me to Boombastic Rubber. A latex fashion label by Asmodena, who prefers simple elegance without losing focus for the details. It doesn't always have to be pompous and squiggly, but classic elegance with special little highlights manage to enchant everybody by the first minute. For already quite a long time I have followed Boombastic Rubber on Facebook, but right now it is about time to introduce this Northern German pearl of latex manufacturing to you. Boombastic Rubber loves to custom-create this second skin right on the body of curvy women. There is nothing worse in wearing latex outfits than a bad fit, but often enough Size Zero papercuts just give us a hard time. Asmodena from Boombastic Rubber has the right medicine for this: She offers you a lot of passion for the details, a lot of wearing comfort and an amazing quality with a wide variety in colors, just to put the most important curves into perfect light.
The pieces of the amazing latex clothing line can be individualized by personal wish and in contrast to the designers that offer hand-me-down fashion Asmodena is happy about individual ideas and gives some advice for finding the right color and cut. Girls with a curvy figure who like to try some latex fashion can't avoid Boombastic Rubber. You can admire the timeless chic of her amazing fashion at German Fetisch Ball – A decade of decadence – 2013 in Berlin. But let me just tell you one thing: You will catch a glimpse at some wonderful and unknown latex creations and of course, there will be the possibility to talk about some custom-made latex dreams. Those of you who cannot make it at whitsun weekend on May 17th – 20th (just like me, since London Burlesque Festival calls) should take a look at their website – but be careful: You might fall in love
Photos: Inger Diederich, Marcus Gloger, Thomas Bommi Burggraf, Hanja Li / Modelle: Onna Sakura, Kay Morgan, Gina Doll, Cherry van Rock

All Pix © Bellatrixx Capella
Germany moves towards October season and my fashion thoughts are only about German Trachten fashion. The happier we can be about a little break. I mean, this burlesque and alternative fashion magazine is supposed to remain as colorful as fashion reality itself. Here, latex always belongs to the first choice when it comes to researching new topics and of course I didn't have to go far to find another great designer who offers a great collection with many bright colors and much passion for the details. Bellatrixx Capalla produces lovely, handmade, candy-like wrappings since 2011 in the United Kingdom. Take a look at the other Latexlabels too

Photo By Laura Dark Photography
Just like many of the really good latex labels Bellatrixx Capalla loves to play with color and presents the skin-tight material in various retro patterns. Frills, pipings, bows rhinestone applications, anchors, stars and many other elements are part of the unique fashion line of the musician. Creating her clothes, Bellatrixx sets high value on feminine cuts and shapes and isn't afraid of fulfilling the most colorful customer's wish. Those who immediately fell in love with the metallic, colorful, retro-inspired latex fashion should not waste any time and take a closer look at the website of Bellatrixx Capalla, and I'm sure, you will find your next favorite item among her dresses, skirts, tops, hotpants, leggings and accessories.
Chaos is a state of confusion or disorder says Wikipedia and so chaos is the initial basis of order, structure and every development in the world. Grounded on this finding it is no surprise when a fashion manufactory give itself the name of "Collective Chaos". The American latex label enthuses with feathers, lace and, of course, latex. Here, Creative Chaos is not afraid of using wild color and unique design variations and puts value on high quality. Collective Chaos once again proves that latex fashion is not only made for fetish lovers. The combination of see-through lace materials in a lovely vintage look and retro cuts with colorful latex alone will thrill you at first glance.
This combination of fantastic light lace and tight latex is perfect for people like me, because wearing this stuff at events really makes you sweat – well, at least this applies to me, when I wear latex couture for a couple of hours. However Collective Chaos Latex does not limit itself to only latex and lace. Bright colorful feather combinations, braided masterpieces and hand-glued designs make Collective Chaos Latex one of the most extraordinary latex manufacturers. And every design is carried by a touch of vintage and retro. Those who like to find out more about this amazing label should definitely visit the Online Shop of Collective Chaos or the Blog.
Photography by Collective Chaos Photo, Models: RubberDoll, Ancilla Tilia, Vaunt, Porcelain, Mosh, Crash, Courtney Crave.
Fatal error
: Call to undefined function wp_paging() in
/kunden/287532_10827/rp-hosting/13/53/burlesque-fashion.com/wp-content/themes/designpile/index.php
on line
43